Are you a dog owner seeking methods to improve your dog's playtime and comfort? Look no further than artificial grass for dogs!
This helpful guide examines why this pet-friendly landscaping option is ideal for your four-legged friends.
Artificial grass has everyone's tails wagging, from maintaining a lush, green yard all year to offering your dogs a safe and clean habitat.
When considering grass for dogs, it's critical that you understand the significance of choosing the best grass for your dog.
Let's dive into the reasons why it's a doggone good choice!
Why Artificial Grass for Dogs is Good?
We'll examine why more and more pet owners are turning to artificial grass's lush, low-maintenance appeal to create a safe and comfortable retreat for their four-legged friends.
Artificial grass for dogs is a great option, but keeping your natural lawn in good condition is also important. To begin, investigate the procedure of dethatching a lawn to maintain it lush and healthy.
Let's delve into canine comfort and convenience, from easy upkeep to pet-friendly amenities.
1.

Easy to Maintain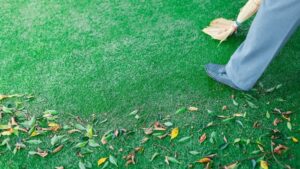 Artificial grass is low-maintenance, which makes it great for pet owners.
You can easily clean it by removing liquid waste and collecting solid garbage. This creates a safe and welcoming environment for a variety of activities.
On the other hand, natural grass might hide unpleasant surprises, especially in uneven or lengthy grass, making artificial grass a practical alternative.
2.

Mud-Free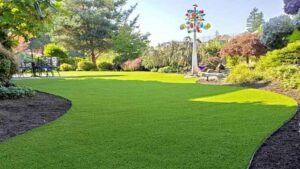 Artificial grass eliminates the need for mud in your yard.
It repels moisture, ensuring that your dog may enjoy a clean and mud-free environment even in wet or misty circumstances, saving you the inconvenience of regular cleanups.
3.

Always in Good Condition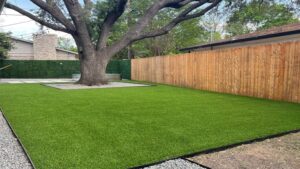 Your dog may romp and play to their heart's content on fake grass without causing any harm or wear.
Even active dogs who like lengthy playing or romping in the rain and snow will not detract from the beautiful beauty of your landscape.
Unlike natural grass, which may grow uneven and muddy under the influence of lively pets, artificial grass is excellent all year for you and your dog to enjoy.
4.

It's Excellent for Play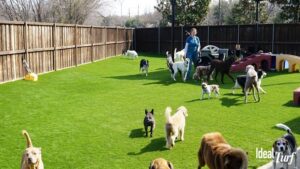 Dogs and their human partners will enjoy playing on artificial grass. Its soft and spongy texture is a treat for your pet's paws, making it ideal for interactive play.
On this smooth and level surface, families may roll, romp, and spend quality time with their dogs.
It takes less upkeep than natural grass, making it a convenient alternative for play without worrying about ground conditions.
5.

The Yard Cannot Be Digged Up by Dogs.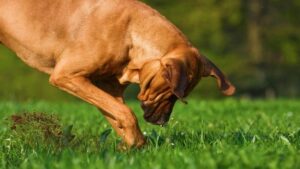 Are you sick of your dog digging up your garden? Installing long-lasting, dig-resistant artificial grass might be a simple option.
Your pet can still have fun while your grass remains spotless.
This grass keeps your dog from digging and gives a clean and lovely environment to play, run, and have fun without hurting your yard.
6.

Available at a Reasonable Price

Artif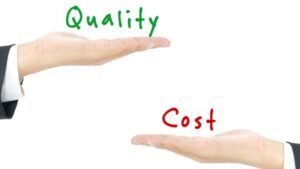 icial grass is a cost-effective option for providing a high-quality outdoor environment for your dog without breaking the bank.
Recycled fake grass may be restored to perfection after being used elsewhere, offering a cost-effective solution.
It is more cost-effective long-term than natural grass since it removes the need for regular care.
Furthermore, this eco-friendly option repurposes previously used fake grass, reducing environmental effects while providing a safe play space for your pet.
Is Artificial Grass Safe for Dogs?
Artificial grass is completely safe for pets, making it an excellent option for dog owners. This highly resilient synthetic grass can endure the wear and tear of rambunctious paws, claws, and nails.
Unlike natural grass, artificial grass stops dogs from digging through it, a characteristic that professional dog boarders and pet owners appreciate.
The safety of your family and pets is vital, and current artificial grass has evolved to be safer than ever.
While there were formerly worries about lead and hazardous chemicals, respectable manufacturers have eradicated these aspects from their procedures, assuring pet safety.
To guarantee the safety of your pets and family, lead levels in older synthetic grass installations should be tested if their origin is unclear.
Real Grass Vs. Artificial Grass for Dogs
There are certain essential elements to consider while selecting the proper grass for your pet buddies.
Real grass has the classic appearance of a lush, natural lawn, but it requires significant care and water use and exposes your pet to certain risks.
Artificial grass, on the other hand, has evolved to nearly resemble the genuine thing and offers various benefits to both you and your canine companion.
Now, let's delve deeper into the comparison between these two choices:
Real Grass:
It has the typical appeal of a natural grass.
Regular care is required, such as mowing, edging, weeding, and fertilizing.
Water usage is high, especially in hot areas.
Brown marks from dog urine, digging, bugs, ticks, fleas, and muddy paw prints are all possibilities.
Frequently use potentially hazardous chemicals like fertilizers, herbicides, and insecticides.
Concerns about environmental damage and chemical discharge.
Artificial Grass for Dogs:
It achieves a near-natural look and feel with changing blade widths, textures, and colors.
It requires little upkeep; an occasional hose-down maintains it clean.
Removes typical pet-related concerns such as brown patches and muck.
Pet-friendly turf alternatives that are resistant to wear and tear.
Antimicrobial ingredients guarantee a clean and safe environment for dogs.
Reduces the need for dangerous lawn pesticides while saving money on water costs.
It provides a long-lasting and appealing solution that stays immaculate all year.
Final Thoughts
Choosing artificial grass for dogs is like rolling out a green carpet of joy for your four-legged buddies.
Using fake grass, you provide a clean playground for your favorite puppies. Isn't their tail wagging worth it? Make the switch today and watch your pets jump with pleasure in their slice of canine heaven!