Have you ever wondered about those attractive chairs that appear ready to act? So, let's explore the world of bungee chairs and discover their enchantment to your workstation.
Imagine a chair that is more than a chair but a dynamic support system tailored to suit you like a glove.
It's like a tailor-made relaxation refuge for your tired back, hard-working spine, and days when you need a break.
But, hey, it's not just about comfort; it's about combining style and usefulness into one smart package.
Get ready to embrace the revolution of comfort and style that's anything but ordinary.
What is a Bungee Chair?
A bungee chair, or a bungee cord chair or desk chair, reimagines seating by generating a flexible mesh or parallel pattern with elastic bungee cords for pleasant support.
This revolutionary ergonomic design conforms to the body's curves, reducing pressure areas.
The chair's metal or plastic frame firmly attaches tensioned cord straps, providing enough cushioning and springiness.
Notably, the design has ventilation gaps between chord rows, which improves comfort during prolonged sitting.
Also, if you are a comfort lover, you must check out the best bed rest pillows that enhance your comfort living.
Bungee chairs have a variety of forms, including adjustable height and swivel options, and are prevalent in home offices and modern workstations.
This one-of-a-kind seating idea combines flexibility, comfort, and elegance to provide a distinct and ergonomic sitting experience like a boucle chair.
Key Features Benefits of Using a Bungee Chair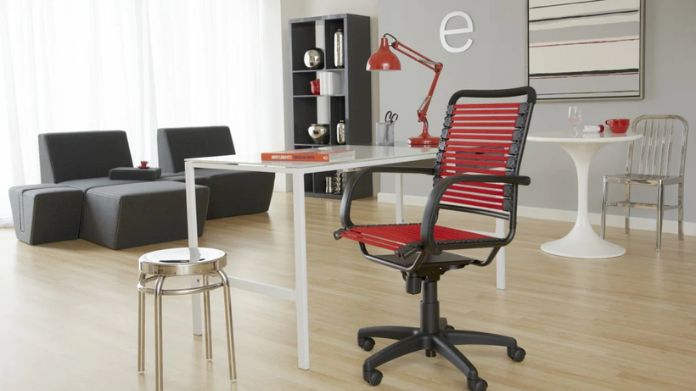 Key Features of Bungee Office Chair
1.

Bungee Cord Support

The revolutionary bungee cord support system, which replaces traditional foam cushioning, is the heart of a bungee office chair.

In contrast to standard office chairs, it features interwoven cables for the seat and backrest, providing flexible and supportive seating.
2.

Modern aesthetic

The bungee ergonomic chair's unusual spirals or parallel patterns offer a unique and quirky modern design.

With their elegant designs and different color options, these chairs boost the aesthetic of rooms in offices, lounges, or sports areas, increasing overall décor.
3.

Lightweight and Portable

Bungee chairs are noted for their lightweight construction, making them easy to pick up and move about.

This functionality helps you use them at home or the workplace because you can quickly move them across areas.

Furthermore, the mobility of these seats is useful when you want to change things up in your workstation.

You may instantly change the configuration of your workstations and seats without breaking a sweat!
4.

Easy Maintenance

Bungee chairs are made to be easy to maintain. Brushing away dust and debris makes cleaning the wires that make up the seat and backrest simple.

Furthermore, spills are less likely to be fully absorbed into the bungee cords than in the fabric or padding of cushioned seats.
Benefits of Bungee Office Chair
1.

Increased airflow

The open bungee rope design allows for better air circulation, which prevents heat accumulation and perspiration.

This breathability is especially useful in hot weather or settings requiring temperature control.

Airflow surrounding the chair is enhanced by gaps between the cords, making it suitable for outdoor furniture with accessible storage.
2.

Portable

Bungee chairs are highly portable due to their small size, lightweight, and easy foldability.

Smaller varieties, such as the hexagonal form, are readily transportable in automobiles, making them perfect for camping, sporting events, or leisurely outdoor use.
3.

Comfortable

The flexible support of the bungee cords uniformly distributes weight, lowering pressure for increased comfort, reduced tiredness, and improved well-being during prolonged sitting.

Firmly fastened cables with spring cushions conform to seating curves for maximum comfort.
4.

Improved Posture

Office bungee chairs improve posture by maintaining the spine's natural curvature, minimizing slouching and posture-related pain.

Their ergonomic design promotes comfortable upright sitting throughout lengthy work periods, improving general well-being.
5.

Cost-effective

The cost-effectiveness of bungee chairs stems from their aesthetically basic design, which reduces production and maintenance costs.

These chairs are an affordable sitting solution for a variety of situations. Their adaptability provides value for money, whether used for leisure activities or on-the-go seating requirements.
Types of Bungee Office Chair
1.

Traditional Bungee Chair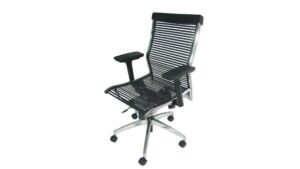 The Traditional Bungee Chair is a straightforward yet efficient design.
This design employs bungee cords stretched over a frame to provide a flexible, supporting seat and backrest.
Its basic design and wide range of color options make it an attractive and comfortable seating option.
2.

Bungee Task Chair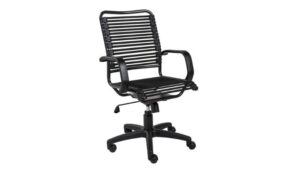 Bungee task chairs are structural and have metal or plastic frames with bungee cords for a supporting mesh seat and backrest.
These chairs, which include adjustable height, swivel bases, and tilt mechanisms, provide ergonomic comfort and flexibility for efficient and dynamic task-oriented work.
3.

Bungee Executive Chair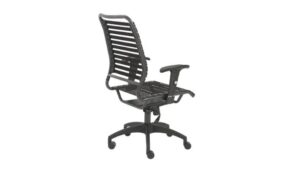 Bungee Executive Chairs provide an executive twist to the basic bungee concept.
They ooze sophistication while retaining the distinctive comfort and support of bungee cord construction, with armrests, backrests, and the option of leather or imitation leather accents.
4.

Bungee Stool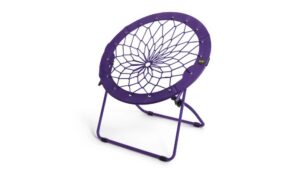 Bungee stools are adaptable seating options for standing workstations and bar-height counters.
They give a comfortable and versatile choice for work that need both standing and sitting by combining the flexibility of bungee cords with a higher seated posture.
5.

Bungee Lounge Chair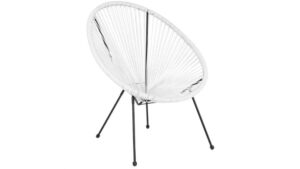 Bungee lounge chairs combine the adaptability of bungee cords with a relaxed, reclining frame.
These chairs frequently have additional padding and are ideal for informal lounging settings, improving comfort and relaxation in lounges or leisure areas.
6.

Bungee Rocking Chair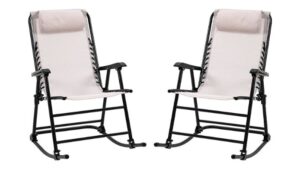 Bungee Rocking Chairs combine two distinctive elements: the adaptable support of bungee cords and the soothing motion of a rocking base.
This innovative fusion creates a dynamic seating experience that caters to relaxation and focused activities effortlessly.
Final Thoughts
That concludes your introduction to the world of bungee office chairs! These chairs certainly stand out, from their revolutionary design that springs to life with bungee cord support to their oh-so-comfy rocking bases.