Are you chocolate lovers 🍫 ready to embark on a beautiful trip that combines chocolate's rich, tempting flavor with the richness of nutritious ingredients? Look no further than chocolate smoothie recipes.
Okayreview picked a variety of dishes that will tantalize your taste buds while nourishing your body, from post-workout pick-me-ups to guilt-free dessert alternatives.
So, are you prepared to sip, savor, and relish the finest of both worlds? Let's make some magic and enjoy some chocolaty deliciousness that's as delicious as it is healthful! 🥤
Top 8 Chocolate Smoothie Recipes
With this handpicked list of the finest 8 chocolate smoothie recipes, you can indulge your desires and treat your senses to a lovely symphony of flavors.
1.

Energizing Chocolate Smoothie Recipe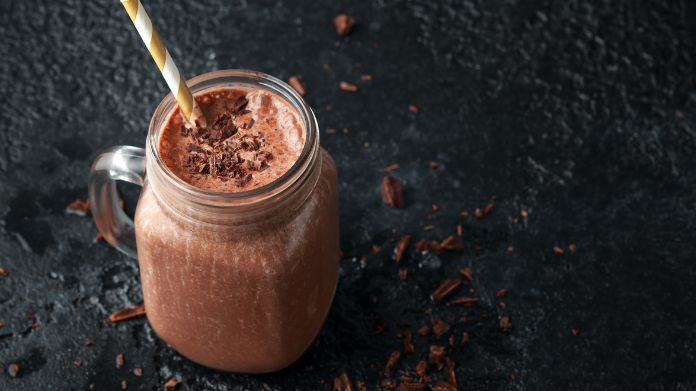 Our Energising Chocolate Smoothie will jumpstart your day. With strawberries, bananas, avocados, dates, and a dash of honey, this nutrient-dense combination provides long-lasting energy.
Enjoy your chocolate cravings guilt-free while getting your vitamins and nutrients.
Ingredients
1 frozen banana
1 cup frozen strawberries
½ avocado
3 pitted dates
1 cup almond milk
2 tbsp cocoa powder
Procedure
Blend everything until smooth, then top with a sprinkling of rolled oats for a delightful touch. Put all of the ingredients in a portable blender and mix until smooth.
If it's too thick, add more water or milk to thin it down. Don't worry if you can't find dates; they're optional in this mix.
They do, however, add some texture, sweetness, and deliciousness. If desired, substitute another fruit or an extra banana.
2.

Chocolate Coffee Smoothie Recipe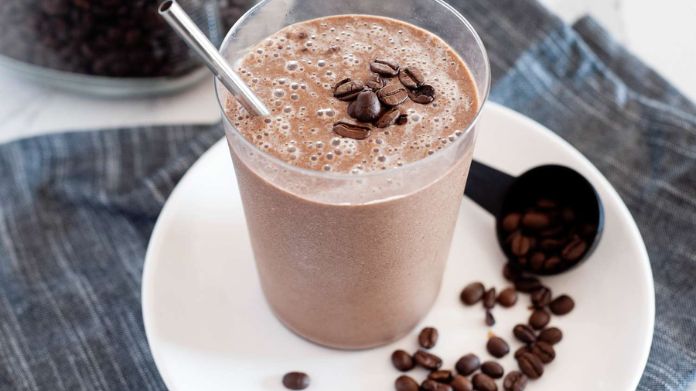 The Chocolate Coffee Smoothie Recipe combines the richness of coffee with the goodness of nutrients to satisfy coffee lovers' cravings.
Customize your caffeine level by adjusting coffee powder and milk proportions.
It's a nourishing treat reminiscent of café delights, enriched with healthy fats and essential vitamins.
Ingredients
½ cup cold brew coffee
2 tbsp cocoa powder
1 banana (can be frozen)
½ cup almond milk, unsweetened
Dash of turmeric for flavor
Procedure
To avoid dilution, freeze coffee or milk in cubes. Blend these cubes and the remaining ingredients until smooth.
This approach keeps the flavors rich while adding a refreshing cold, resulting in a creamy, concentrated chocolate coffee smoothie.
3.

Banana Chocolate Smoothie Recipe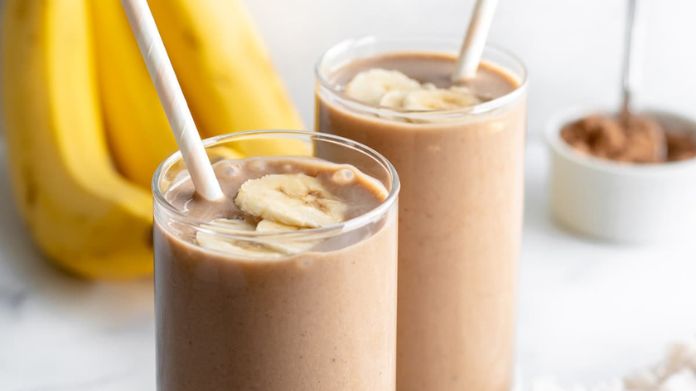 The Banana Chocolate Smoothie is a fantastic combination. The richness of chocolate harmonizes wonderfully with bananas, producing a delectable symphony of flavors.
This vegan delicacy is ready in 5 minutes and made from 5 easy ingredients, making it an ideal healthy breakfast or protein-packed snack.
Ingredients
1 frozen banana
½ cup cottage cheese or plain flavor tofu cheese
¼ cup vanilla or chocolate-flavored protein powder
2 tablespoons cocoa powder
1 teaspoon vanilla
½ cup water
Procedure
When making fruity smoothies, a handy tip is to freeze the fruits ahead of time. It saves you from using ice, which can dilute the deliciousness.
Blend till smooth and creamy, then top with cocoa powder for a finishing touch – perfection!
4.

Chocolate Milkshake Smoothie Recipe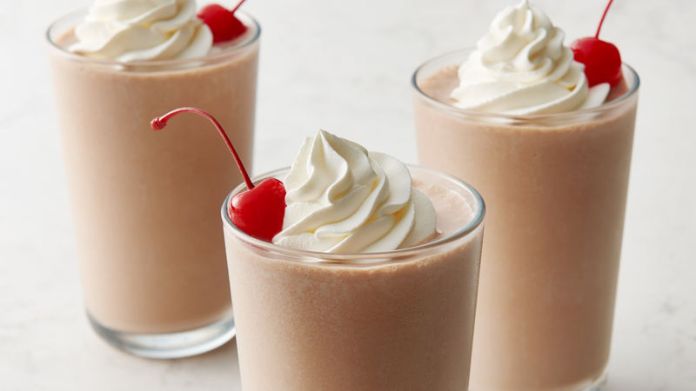 Enjoy a guilt-free, Healthy Chocolate Milkshake Smoothie. Unlike regular milkshakes, this "mock shake" recipe is high in vitamins and minerals and low in sugar and fat.
Enjoy the flavor of a forbidden delight devoid of added sugar and gluten, and it can be made dairy-free. Feel the thrill of a milkshake without the ice cream!
Ingredients
¾ cup Greek yogurt (or soy yogurt)
½ cup almond milk
2 tbsp cocoa powder
1 tbsp liquid stevia sweetener
Handful of ice cubes
Procedure
To make this smoothie thicker thickness, add half a frozen banana for an additional creamy and healthful twist.
It also means you may forgo the ice, keeping your drink rich. Blend everything until completely smooth.
Add a lovely drizzle of chocolate syrup or a sprinkling of chocolate chips on top for the ideal finishing touch.
5.

Hot Chocolate Smoothie recipe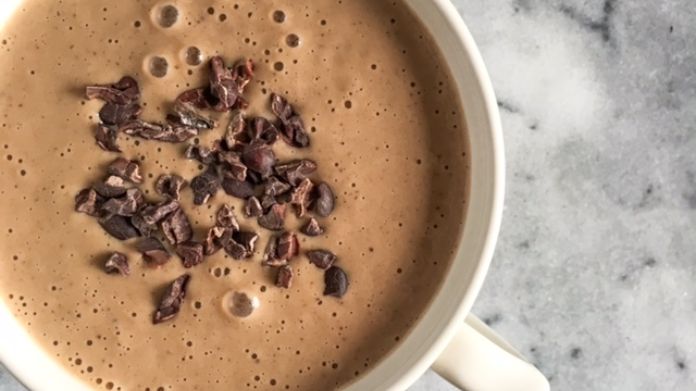 A Hot Chocolate Smoothie is the ideal cold-weather indulgence. Enjoy the soothing taste of hot chocolate in a creamy, vegan morning smoothie.
It's a tasty and nutritious way to start your day, packed with fiber and plant-based protein.
Ingredients
3/4 cup chocolate oat milk
1 banana, sliced and frozen
2 tablespoons chocolate protein powder
2 tablespoons chocolate nut butter
1 tablespoon unsweetened cocoa powder
Pinch of ground cinnamon
Pinch of cayenne
Marshmallow fluff and cacao nibs for topping
Procedure
Give it a nice hand stir and chill it for a few hours for an even tastier smoothie. Then, mix until completely smooth.
This method softens the muesli, resulting in a creamy pleasure. Are you in a hurry? Add a little extra milk to make it thinner.
Finish with some chocolate chips or a dusting of cocoa powder on top – ultimate decadence!
6.

Chocolate Berry Smoothie
Satisfy your chocolate cravings with this frozen treat that offers the ideal blend of health and enjoyment.
This Chocolate Berry Smoothie blends the benefits of berries with a rich chocolate touch to make a healthy and indulgent delectable treat.
Enjoy it as a filling breakfast or a decadent dessert. Add ice to fresh berries for a refreshing twist. Skip the ice using frozen items, or freeze milk into cubes for added cold.
Ingredients
1 cup skim milk or almond milk
½ cup frozen blueberries
½ cup frozen raspberries
½ cup frozen blackberries
1 banana
4 tbsp cocoa powder
Procedure
Combine the mentioned components in a blender, such as berries, milk, and yogurt. Blend until smooth and consistent in texture. You can also use the best portable blenders for making this smoothie.
Add a sprinkle of cocoa powder for flavor and presentation, improving the taste and look of the smoothie.
7.

Chocolate Mint Smoothie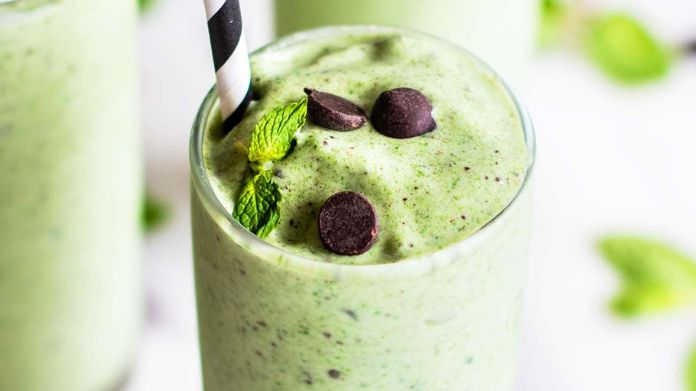 This Chocolate Mint Smoothie is reminiscent of my favorite mint chocolate ice cream from childhood, and it's a guilt-free treat.
It's a lovely, healthy alternative that perfectly captures the spirit of a milkshake.
It's my go-to breakfast choice since it's packed with nutritional ingredients and allows me to enjoy the familiar flavor while keeping a healthy balance. Every sip is a gratifying win-win situation.
Ingredients
1 cup skim milk or almond milk
¾ cup spinach leaves
¼ cup mint leaves
1 banana
2 tbsp cocoa powder
A few drops of Stevia liquid sweetener
Procedure
Mix your liquid and leaves to ensure the greens are thoroughly processed. You may even cut those greens before mixing to keep your smoothie chunk-free.
Blend in the remaining ingredients until everything is velvety smooth. Finish with a mint leaf on top and a sprinkling of chocolate chips for an added flavor boost!
8.

Chocolate Chip Cookie Smoothie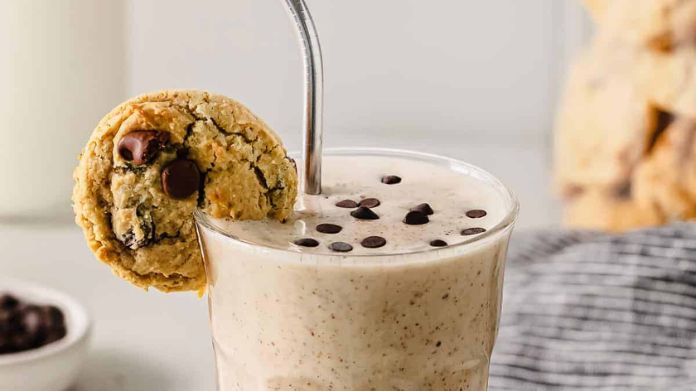 A Chocolate Chip Cookie Smoothie is a liquid version of the delight of chocolate chip cookies.
Capture the flavor of cookies in a creamy mix, or go all out with edible cookie dough. A delicious way to sip pleasure while also satisfying your cookie cravings.
Ingredients
4 chocolate chip cookies
2 tbsp chocolate chips
1 tbsp vanilla-flavored protein powder
1 cup almond milk, unsweetened
Procedure
To make a creamy mixture, combine all of the ingredients. Top with optional whipped cream and chocolate chips.
Insert a cookie for more indulgence if desired. "Feeling saucy" indicates daring exploration, heightening the enjoyment and ingenuity in producing the smoothie.
Wrapping Up!!
And there you have it, a compelling collection of healthy chocolate smoothie recipes to rev up your taste buds and nourish your body.
Which one will you try first? Let your taste adventure begin – whip up these chocolatey delights and treat yourself to a burst of satisfying and wholesome goodness.
Happy blending and savoring! 🍫🥤✨