In the gardening world, where every bloom tells a story, and every leaf whispers secrets, there's a tool that stands as a silent guardian of your green kingdom.
The Hori Hori knife, often known as the gardener's hidden weapon, is coming to change the way you care for your green sanctuary.
But what makes this seemingly basic knife essential for any gardener? Okayreview, discover why the Hori Hori knife has become a vital gardening tool and why you should also have one in your gardening armory.
What is the Hori Hori Knife?
A Hori Hori knife, a multipurpose gardening implement steeped in Japanese culture, is a must-have for any gardener.
This unique knife is noted for its basic yet efficient design, called after the Japanese term 'hori,' which means to dig.
Its serrated blade is 11 to 15 inches long and is excellent for cutting through roots, tubers, and thick soils.
Hori Hori knives are available in various forms, some with bamboo or wooden handles and others with rubber or plastic grips.
These knives provide ergonomic comfort over long hours of gardening, whether you choose stainless steel or lightweight carbon steel.
Also, if you enjoy gardening, you should look into the finest lawn edger for perfectly trimmed borders that will make your neighbors green with envy.
6 Reasons Why Every Gardener Needs Hori Hori Knife
1.

Weeding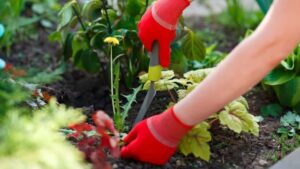 The hori hori knife excels in weed removal because its sharp tip easily cuts through varied soils; it acts as an alternative to weed killers.
Its curved blade provides accurate root access, and by leaning the handle, you may completely remove weeds.
Gardeners save time and effort with this gadget, which makes weeding a breeze. It efficiently loosens the soil around weed roots, guaranteeing they do not reappear very soon.
2.

Digging
Digging is a vital gardening practice, and the Hori Hori tool is a flexible tool that may be used for various activities.
Its sharp edge enables crisp drills in cultivated soil, and its concave blade excavates clean drills swiftly, saving time and effort.
With Japanese origin, "Hori Hori" literally means "dig dig," emphasizing its use in planting, grass removal, and edging duties.
3.

Planting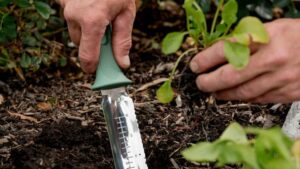 The hori hori knife is a multipurpose planting tool used in various gardening ways.
By minimizing soil disturbance, it thrives in no-dig systems. Its carved dimensions may be used to assess planting depth, part of the soil, and deposit seeds.
It works well with seedlings, bulbs, and bigger specimens. It also functions as a measuring instrument for spacing between crops and rows.
The knife's sharp blade and built-in ruler make digging rows for seeds and holes for bigger plants simple, assuring accurate planting depths.
The hori hori knife is a valuable gardening tool for sowing seeds, transplanting, and spacing your garden.
4.

Pruning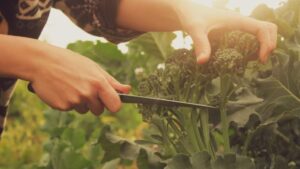 Pruning is necessary as your garden grows over the summer.
While hand pruners are fantastic for fine-tuning, the serrated edge of a hori hori knife is suitable for swiftly taming overgrown plants and cutting through branches up to half an inch thick.
It's ideal for cutting shrubs, vines, and bushes, and it may also be used for on-the-fly deadheading in bushier plants like catmint, alyssum, and thread-leaf coreopsis to induce a second bloom.
5.

Harvesting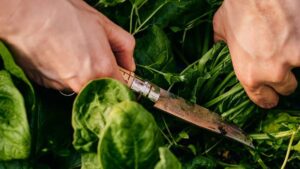 The hori hori is a multifunctional gardening tool with a serrated side for woody herbs like lavender and a beveled side for slicing and cutting soft greens like lettuce.
It's ideal for collecting root crops since it quickly loosens soil without causing harm.
This tool is also helpful for cutting herbs veggies, and removing deep-rooted weeds.
6.

Removing Stumps and Roots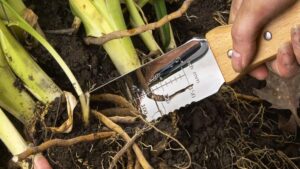 Its exact excavation skills allow for cautious root exposure, and it can simply cut off roots, making it useful for stump removal.
The Hori Hori is especially useful for eliminating deep-rooted weeds and is more capable of cutting through roots and prying than standard instruments such as trowels.
It's not just for gardening; it's also great for camping and has a variety of other applications outside of the garden.
Selecting Your Right Hori Hori Knife for Your Garden
Consider the following points before adding a Hori Hori knife to your gardening arsenal:
1.

Handle Material

The handle material of Hori Hori knives, which includes bamboo, wood, rubber, and plastic, is critical to user comfort and grip security.

Gardeners may choose between the classic feel of bamboo or wood handles and the ergonomic characteristics of rubber or plastic handles.

The handle material considerably influences the entire user experience when using a knife.
2.

Blade Length

Hori Hori knives have varying blade lengths, with larger blades excellent for deep digging and chopping and shorter blades for accuracy and maneuverability.

Choosing the proper blade length is critical for achieving peak efficiency in various gardening jobs.
3.

Extras

Some Hori Hori knives come with additional features or accessories.

For example, Some types contain measurement markers for accurate planting spacing, while others include protective sheaths or blade shields for secure storage and accident avoidance.

Consider these add-ons based on your gardening requirements.
Wrapping Up!
This simple tool is a gardener's trusted partner. Its origins in Japanese craftsmanship, adaptable design, and horticultural use make it an indispensable addition to your gardening toolset.
The Hori Hori knife enhances your gardening experience from planting to weeding and all in between.