Looking to make the most of your small living space without sacrificing comfort? Look no further than apartment size sofas! Where compactness meets cozy relaxation.
Whether living in a snug city apartment or a cozy cottage, apartment size sofas is your ticket to ultimate relaxation without sacrificing style, but what exactly are apartment size sofas?
In this article, we'll delve into the world of these versatile pieces of furniture; also, the bean bag is the best solution for small living spaces.
We'll explore their features, benefits, and why they are a must-have for anyone seeking the perfect balance of compactness and comfort.
Let's dive into the world of compact comfort and transform your small living space into a cozy haven!!
Brief on Apartment Size Sofas
Apartment size sofas, often known as small-scale or compact sofa, is specifically intended to fit into smaller living spaces.
It is ideal for apartments, condos, or any other restricted living area because of its compact proportions and space-saving features.
Despite their modest size, apartment sofas provide comfortable seating without sacrificing design or utility.
Its small size allows it to fit into tight corners and narrow hallways, making it an excellent alternative for saving space.
Apartment size sofas, which come in various designs and upholstery options, are a practical and visually appealing sitting solution for cozy living areas.
What Are the Space-saving Benefits of Apartment Size Sofas?
Apartment couches have several space-saving advantages, making them an excellent alternative for compact living areas.
Their small footprint maximizes floor space without sacrificing comfort. These adaptable couches can fit into tight corners, short corridors, or against walls, making the most available space.
Using apartment size sofas offers an open and wide environment, minimizing overpopulation.
Some versions are multi-functional, with storage compartments or convertible alternatives to maximize space utilization.
With their versatile configuration choices, apartment couches provide practical and beautiful sitting solutions, optimizing the efficiency of tiny living rooms.
What About the Style and Versatility of Apartment Size Sofas?
Apartment size sofas are vital furniture components for tiny living areas due to their elegance and functionality.
These petite couches are designed to fit snugly into flats, condominiums, or small square footage rooms without sacrificing aesthetics.
They are available in various styles, from sleek and modern to traditional and cozy, to ensure a great match for your aesthetic choices.
Furthermore, apartment size sofas provide excellent adaptability, with convertible designs that change into visitor beds and built-in storage compartments to maximize usefulness.
You can easily mix elegance, comfort, and functionality with apartment size sofas to create a comfortable and useful living room in your tiny house.
Comfort and Functionality of Apartment Sofas
When arranging a tiny living area, the comfort and usefulness of apartment size sofas are most significant.
Despite their small size, these couches are carefully constructed to provide a comfortable seating experience.
They include luxurious cushions and ergonomic support to help you unwind and rest after a busy day.
Furthermore, their functioning is of considerable benefit. Many apartment couches have clever features like built-in storage compartments, allowing you to maximize your limited space.
Furthermore, several versions provide variable designs, such as couch beds or adjustable backrests, to accommodate overnight visitors or different sitting preferences.
You no longer have to choose between comfort and functionality with an apartment couch.
It effortlessly combines both elements, creating a practical and inviting seating solution for your small living space.
How to Choose the Right Apartment Sofa?
To guarantee that the proper apartment size sofas fit your space and satisfy your demands, examine the following factors:
Take exact measurements, considering entrances, hallways, and other impediments. It will assist you in determining the proper sofa size.
Consider the style that goes well with your home's decor. Choose a modern or classic design and upholstery that complements your taste and lifestyle.
Consider functionality. A sleeping couch can be an excellent choice if you frequently entertain visitors. To ensure durability, look for superior construction and long-lasting materials.
Test the sofa's comfort by sitting on it. Check the cushion firmness and seating depth to ensure it suits your preferences.
Considering these considerations, you may choose the ideal apartment size sofas that blend design and functionality, functionality and comfort for your living space.
Which is Better, Among Apartment Size Sofas or Regular Sofas?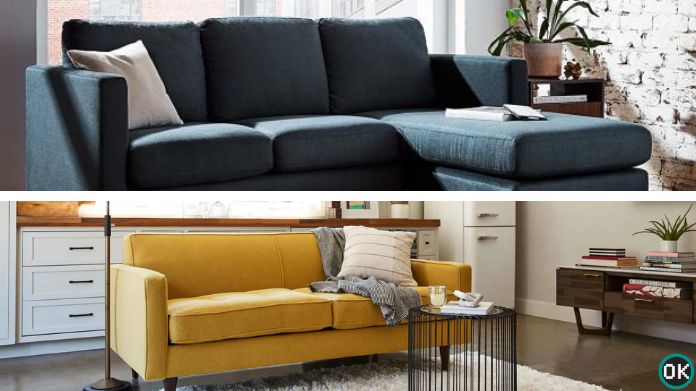 Your intended arrangement for entertaining and communal spaces ultimately determines the decision between apartment sofas and a standard couch.
If you have a spacious room with a giant television, a standard-sized couch or sectional can balance the area's aesthetics while accommodating more people around the enormous screen.
In contrast, apartment size sofas are a good choice if you have a smaller area and prefer a conversational configuration with two sofas facing one other.
It provides enough seats for a large group without overwhelming the small space. Furthermore, functionality is critical in your decision-making process.
Consider how you want to use the area, who will be in it, and the general mood you want.
Allow your vision for the room and the available measurements to steer you toward the optimal sofa size, enabling you to maximize or minimize the dimensions of your living space.
Our Thoughts
So there you have it! Apartment size sofas are the perfect solution for small living spaces, offering compact comfort without compromising style or functionality.
So why settle for confined seating when apartment size sofas provide the ideal blend of comfort and style? Upgrade your living space today and experience the cozy bliss it brings!