A dumpling steamer is a common kitchen appliance for steaming dumplings and buns in Chinese cuisine.
Steaming dumplings keep their delicate flavors and textures while providing a healthier alternative to frying or boiling.
But what makes a bamboo steamer unique? So, let's get started with Okayreview.com!
So, whether you're an experienced home cook or a daring eater, a dumpling steamer opens up a new world of culinary possibilities.
You may steam various meals that preserve their nutritious content and flavor, from dumplings to buns and veggies to seafood.
Get ready to elevate your dumpling game and impress your friends and family with your newfound steaming skills!
Let's get started!
What About Dumpling Steamer?
A dumpling steamer, or bamboo steamer, is a traditional utensil used to steam a range of items in East Asian cuisine.
It is built out of interconnecting bamboo baskets that stack on top of one other, with a cover on top.
Steam rises through the open ridges at the bottom of each basket as the steamer is placed over a wok or pot of simmering water, cooking the food inside.
While it may appear an unnecessary kitchen tool, a dumpling steamer has uses beyond boiling buns and dumplings.
It may steam bread, vegetables, grains, proteins, cakes, and other foods. A dumpling steamer's gentle and equal heat distribution maintains the flavors and textures of the meal.
Furthermore, bamboo steaming is a long-practiced technique in Chinese cuisine, and utilizing a bamboo steamer allows you to incorporate that heritage into your cooking.
Why Should We Own Bamboo Steamer?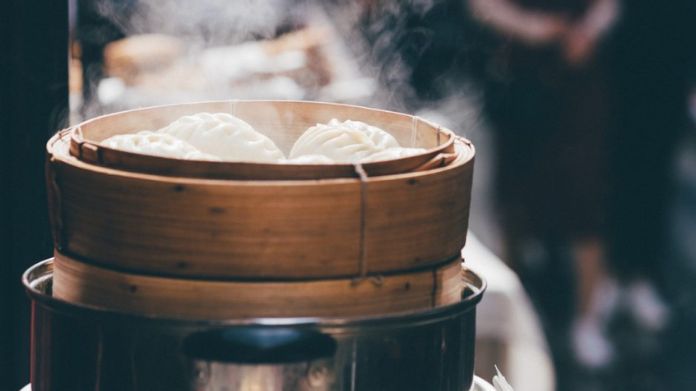 A dumpling steamer, especially a bamboo steamer, provides various benefits, making it a must-have in the kitchen.
Bamboo steamers keep food from getting soggy by absorbing moisture effectively, especially for delicate meals like newly wrapped dumplings or dim sum. In contrast to stainless steel or glass steamers, condensation does not cling to the lid and drops down onto the food.
Bamboo steamers are lightweight and easy to handle and maneuver. They are much easier to load and transport than other varieties of steamers.
Because of its stacking layers, bamboo steamers are extremely efficient. You may cook a complete meal at once with many layers, maximizing your cooking capacity and saving crucial time.
How to Use a Dumpling Steamer?
1.

Fill Your Wok With Water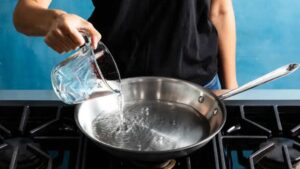 Fill your wok or similar wide-rimmed, shallow pan with water before using a dumpling steamer to steam your meal.
The water level should be enough to immerse the bottom rim, preventing burning while keeping the bubbling water away from the food.
The appropriate mix is essential for successful steaming. Following this rule, you may create a steamy and fragrant cooking environment that gently cooks your food while keeping moisture and nutrients.
2.

Line the Bamboo Steamer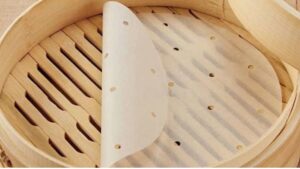 It is important to line the baskets of a bamboo steamer to prevent food from adhering to the bamboo.
Alternative alternatives include Napa cabbage leaves, lettuce leaves, cheesecloth, parchment paper, or specialized circular paper liners.
The liner must be permeable for steam to flow and cook the food. However, when steaming marinated meats or vegetables, using a heatproof plate or basin is best to catch any sauces or fluids.
If you're steaming food in a heatproof container, such as lotus leaves, in some recipes, you may omit this step.
Lining the bamboo steamer properly improves the steaming process and assures tasty, nonstick results.
3.

Place Food in Your Bamboo Steamer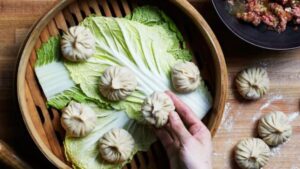 It is important to leave a bamboo steamer out while cooking dumplings, shumai, or buns.
As with cookies on a baking sheet, leave enough room for expansion during steaming. Keep a 1-inch space between dumplings and a 1-1/2-inch space between bigger buns.
There's no need to line the steamer if you prefer steaming in a bowl or plate.
Place the heat-resistant dish immediately in the steamer basket, leaving enough space for steam to circulate. Use a rimmed dish to catch any tasty sauce.
This technique is perfect for steaming vegetables for purees or creating meals such as Steamed Chicken with Mushrooms.
4.

Place Bamboo Steamer in Wok/pot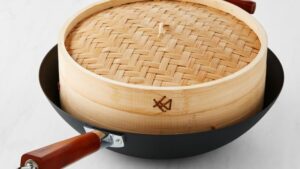 When utilizing one, two methods exist for inserting a dumpling steamer in a wok or pot.
First, boil the water in the pan to a simmer before adding the bamboo steamer.
The alternative is to set the steamer in the pan while the water is cold and gradually heat it.
Unless otherwise specified, it is best to set the steamer on the wok or pan while the water is cold and then turn on the heat.
During the steaming process, this approach allows for a regulated and progressive increase in temperature.
5.

Allow Food to Steam & Check the Water Level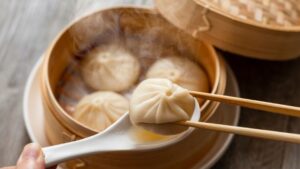 Managing the water level and ensuring a continuous simmer is crucial when steaming food.
Steaming is a gentle cooking method that uses steam to cook food, preserving its natural flavors, nutrients, and textures.
Here's an overview of the process:
Simmering Water: Begin by heating water in a wok or pan until it simmers. This gentle boiling creates steam that will cook the food.
Steaming Duration: Follow the recipe instructions for the recommended steaming time. It allows the steam to cook the food thoroughly.
Monitoring the Water Level: While the food is steaming, keep a close watch on the water level in the cooking vessel. As the steam evaporates, the water level will decrease.
Adding Boiling Water: If the water level drops too low, add boiling water to maintain the necessary steam. It's essential to use boiling water to prevent interruptions in the cooking process.
Avoiding Cold Water: Never add cold water to the pan, as it will lower the temperature and cause the simmering process to halt. This interruption can affect the cooking time and outcome of the dish.
Bottom Line
This article will provide great insights into using a dumpling steamer effectively and emphasize its vital function as flexible cooking equipment.
Happy Cooking!!