Resetting your AirTag is the key to ensuring a smooth handover to the new owner, but how exactly can you reset AirTag? Don't worry; we've got you covered!
Apple's AirTag is an excellent option for tracking a wide range of goods, including bags, keys, and other valuables.
Reset AirTag is a quick and straightforward process that ensures a seamless transition. With just a few simple steps, you can wipe your data and prepare the Airtag for its new journey.
So, grab your iPhone or iPad, dive in, and discover how to reset AirTag like a pro with OkayReview!
Why Do We Have to Reset AirTag?
Conducting a factory reset before selling or giving away an AirTag is critical. You must reset AirTag because it is still tied to your Apple ID.
As a result, the new owner can only use the tracking device if you unlink your Apple ID from it and they link their own.
Moreover, Apple's AirTag connects to a single Apple ID, a security feature to prevent unauthorized individuals from claiming ownership of your tracking accessory and the associated stolen or lost item.
By resetting the AirTag, you guarantee the next owner has a clean slate to link their Apple ID and use the device properly.
How to Reset AirTag? 2 Legit Ways
Basically, there are two ways for resetting AirTag, as given below,
Reset AirTag Via iPhone
Reset AirTag Manually
1.

Factory Reset AirTag Via iPhone?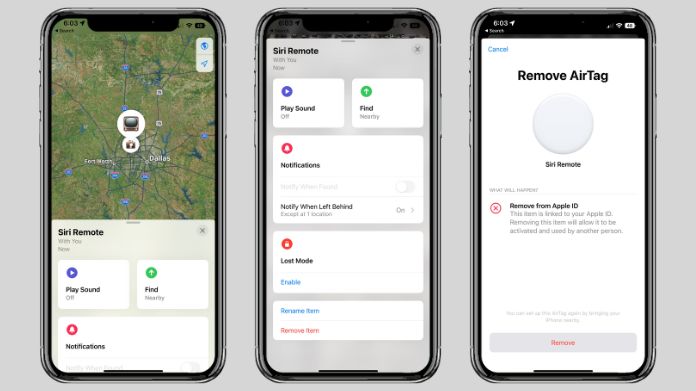 The FindMy App on your iPhone is the quickest and easiest method to reset AirTag.
To guarantee a successful reset, verify that your iPhone and AirTag are both within Bluetooth range of one another and that your iPhone has the Find My app loaded.
Here's a step-by-step guide to factory reset AirTag.
Access the Find My app from your iPhone's home dashboard.
Look for and select the detected AirTag within the app.
Once you're on the AirTag info page, scroll to the bottom.
Locate and press the "Remove Item" option.
On the page that explains the consequences of unlinking the AirTag, confirm the action by selecting "Remove."
It's important to note that once you press "Remove," the process is irreversible.
Following these five simple steps, you will have successfully reset AirTag and unlinked it from your Apple ID.
2.

Factory Reset AirTag Manually?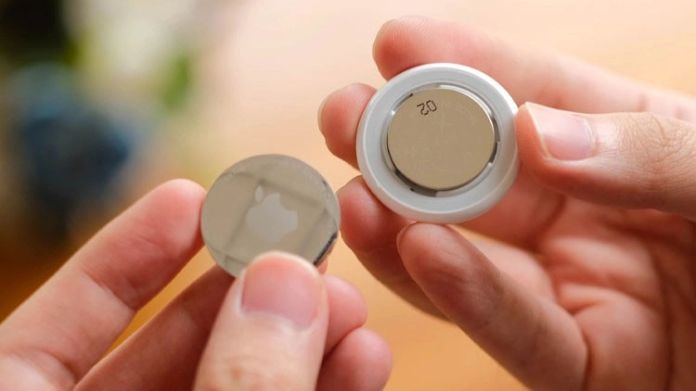 Manually resetting an Apple AirTag to its factory state provides an alternate approach for achieving a new start.
This method entails removing and reinserting the battery and unlinking the AirTag from your Apple ID as a first step, similar to how vintage phones are restored to their original condition.
It is advised that you first go through the prior guide before using this manual reset approach.
To manually factory reset AirTag, follow these steps.
Follow the previous tutorial to unlink the AirTag from your Apple ID if necessary.
Hold the AirTag securely in your hand.
Rotate the battery case at the back of the AirTag counterclockwise while applying downward pressure.
Once the disc feels loose, stop rotating and remove it from the AirTag.
Take out the battery from the AirTag as well.
Place the battery back into the empty slot and firmly press it down until the AirTag emits a sound.
Repeat steps 5 and 6 four more times, ensuring the battery is inserted and pressed down with each repetition. You should hear a sound after each insertion.
After the fifth sound, put the battery case back onto the AirTag while pushing it down.
While applying pressure, twist the case clockwise until it is securely locked.
If you followed the steps correctly, congratulations! Your Apple AirTag has been successfully reset to its factory state. It is now ready for a fresh start.
How to Unpair an AirTag From an iPhone or iPad?
Unpairing an AirTag from your iPhone or iPad is a straightforward process, provided that the AirTag is within Bluetooth range of your device.
First, ensure your iPhone or iPad has Bluetooth and an active internet connection. Next, access the Apple Find My app and navigate to the Items tab.
Locate the AirTag you wish to remove and swipe up on the top "handle" within the onscreen panel. At the bottom of the panel, tap on "Remove Item."
Once completed, please note that to use the AirTag again, you or another individual will need to repeat the pairinmustFollowing these simple steps; you can easily unpair an AirTag from your iPhone or iPad.
Closure
That's all there is to it! It's simple to reset AirTag and transfer it to a new owner.
Following these easy procedures will ensure a seamless handover and allow someone else to enjoy the convenience of tracking their items with this handy device. Whether giving or getting an AirTag, it's all about comfort and peace of mind.
So why wait? Go ahead and reset AirTag, and let the next adventure begin!