Are you tired of the tangled mess of garden hose holders across your outdoor space? Imagine a perfectly organized oasis where your garden hose is neatly stored and ready to be used whenever needed.
In this Okayreview article, we'll look at several clever methods to store your garden hose, ensuring that your outside space stays a peaceful refuge you can enjoy all year.
These functional and visually beautiful garden hose holder options bring order to your landscape while improving curb appeal.
8 Garden Hose Holder Ideas for Every Space
We've got you covered with ingenious solutions that keep your hoses under control and provide a bit of elegance to your surroundings, from inventive wall-mounted racks to appealing ornamental containers.
Join us as we investigate these brilliant ideas for changing your garden into a well-organized paradise where usefulness meets beauty.
1.

Galvanized Wash Tub Hose Storage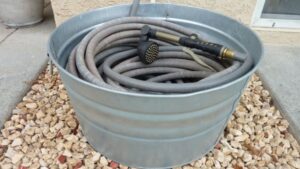 Convert that wonderful old galvanized washtub into a rustic garden hose holder!
The idea is to transform the old washtub into a functional and decorative piece for storing garden hoses, embracing its weathered appearance as part of its unique charm.
Place the tub beneath the outside spigot and coil your hose inside. Voila, efficient storage with a nostalgic twist!
2.

Repurposed Pallet Garden Storage System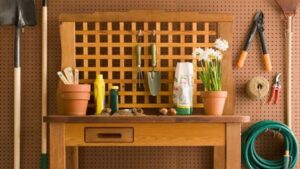 Turning an old pallet into a multifunctional garden storage jewel is simple, like tool storage.
You can make a hose holder and tool organizer in one with some paint and hardware. Hang your hose on a hook and easily store spades and shovels.
It's a gardening game changer that embodies my passion for creative outdoor pallet projects.
3.

Garden Hose Holder Hanger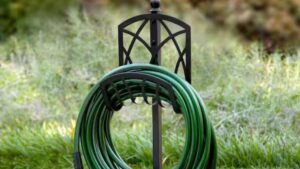 Enhance the beauty of your yard with a valuable and elegant DIY garden hose hanging.
This hanger features a stylish metal design and is conveniently placed below your fixture for easy access. It's a stunning addition to outdoor design that combines functionality and beauty.
It's ideal for displaying your hose while eliminating tangling. Discover the delight of a salvaged wood project that improves your yard environment.
4.

Hose Reel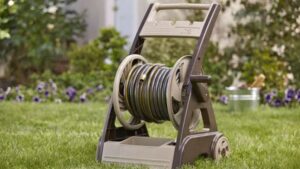 It has a crank handle for accurate hose release and is ideal for carrying about your yard. These holders protect hoses from the weather, whether exposed or enclosed.
You may also store them beneath overhangs or under sheds when not in use.
Several wind-up handles or retractable elements are available in various sizes and styles for extra convenience. Keep it near your spigot for optimal comfort and a wall-free alternative.
5.

Garden Hose Planter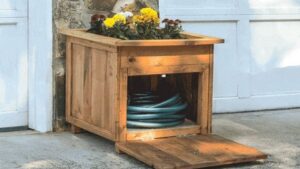 Enhance the beauty of your yard with a unique twist: a garden hose hanger disguised as a wooden planter.
It turns hose storage into a visual joy, in addition to being functional.
This simple wooden planter provides a utilitarian yet elegant solution, serving as a planter and a hose hideaway.
Why not make a few for outdoor decoration and use one to conceal that garden hose?
6.

Upcycled Tire Rim Hose Holder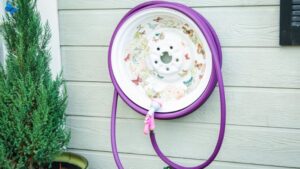 Making a fashionable garden hose holder from an old tire rim is a terrific upcycling project. You'll have a working component with only a little paint and easy assembly.
Connect it to a wooden pillar, deck, or home and combine it with your other inventive tire repurposing ideas.
7.

Keep It in a Garden Shed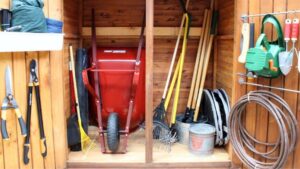 Garden sheds are a flexible addition to any yard! Aside from providing a garden hose holder, it's an ideal hideaway for all things green-thumb-related.
It has everything you need, from rakes to potting soil.
Add a seasonal wreath, beautiful plants, or a splash of contrasting color to the trim and shutters to make it more appealing.
8.

Hose Storage on the Wall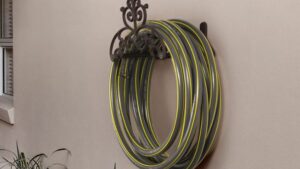 With wall-mounted hose storage, you can quickly transform your outdoor area.
Install a large hook on the wall and drape your coiled hose over it for a cost-effective method that ensures quick drying.
Instead of winding on a reel, just coil and hang for convenience. Your garden will be great!
Our Thoughts
Finding creative methods to keep our surroundings organized and appealing has become a pleasant task in a society where outdoor areas have become our sanctuaries.
The variety of stylish garden hose storage solutions shown in this guide attests to the ingenuity that thrives even in the tiniest corners of our outdoor retreats.
Explore these concepts and let your creativity run wild as you set out to create an organized and visually appealing outdoor paradise.
Your garden will be grateful, and you'll wonder why you didn't try this inventive project sooner.
Good luck with your planting!