Tired of rummaging through the clutter to find the right tool at the right time? We've all been there; fear not, we've got your back with the tool storage ideas!
This article'll show you how to use creative tool storage ideas to turn your workshop into a well-oiled, clutter-free machine like nail guns.
We've combed the DIY cosmos for the greatest solutions, from clever magnetic racks to adaptable pegboards and smart tool cabinets.
Let's roll up our sleeves and dive into the wonderful world of tool organization!
Creative Tool Storage Ideas to Create Functional Space
OkayReview has compiled the greatest options to assist you in transforming your workplace into a well-organized refuge.
With these creative tool storage ideas, you'll never waste time looking for forgotten tools again.
We have something for every area and budget, from sophisticated wall-mounted systems to adaptable tool chests and portable organizers.
1.

PVC Pipes Shelf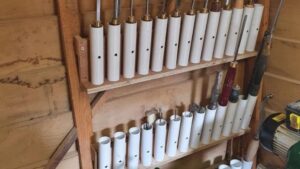 PVC pipe shelves are an attractive and functional way to organize equipment.
Instead of concealing them, one DIY enthusiast created shelves out of PVC pipe supports, allowing for a transparent and accessible display of equipment.
These shelves, which can be easily installed on existing shelves or created from scratch, provide creative and efficient tool storage ideas, requiring just PVC pipes and a saw to build.
2.

Floating Metal Shelves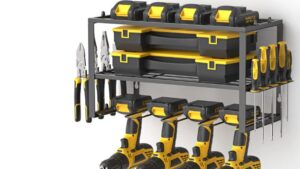 Floating Metal Shelves add a contemporary twist to traditional garage storage.
It produces a fashionable and practical organizational solution by employing waist-high metal frames as the foundation and adding pegboards and floating shelves.
The use of a metal rail system enables the storage of longer tools. Remember to use wall anchors to guarantee stability and prevent screws from peeling when installing the shelves.
This adaptable system offers practical and stylish tool storage ideas for any garage.
3.

Slot Away Your Clamps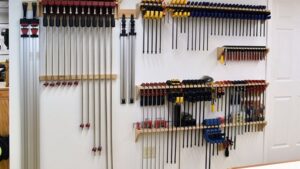 It is an ingenious solution for woodworkers fed up with crowded workspaces.
This solution organizes all the essential equipment in one location by installing shelves and cutting saw holes for each clamp length, but only for small tools like a sander.
Woodworkers may categorize their clamps by size with this smart configuration, ensuring they are always immediately available.
This practical and space-saving solution gives you a clean and efficient workspace.
4.

An Immaculate Pegboard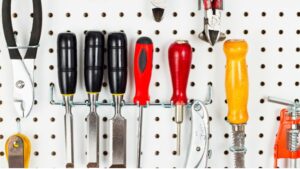 It portrays a well-organized pegboard commonly found on garage walls for people who grew up with tool-obsessed fathers.
With all tools in plain sight and everything having its own allocated position, everything has a place, and everything has a place.
Fortunately, building such a pegboard is a simple operation, making it an excellent solution for efficient tool storage and accessibility.
5.

Magnetic Strips for Metal Tools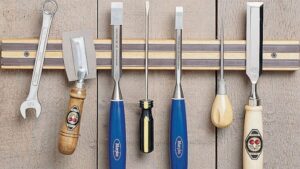 Magnetic metal tool strips are a quick and easy alternative to pegboards for organizing craftspeople's equipment.
Magnetic strips give an easy solution to hold tools in place without the effort of arranging them on a board by using magnetism.
This versatile solution allows users to modify the organization technique at their leisure, making it a time-saving and adaptable tool storage ideas.
6.

A French Cleat Wall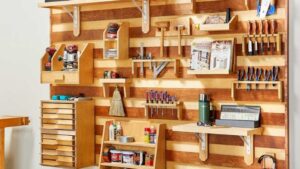 A French Cleat Wall is a clever tool storage ideas that uses 45-degree slanted hardwood slats and gravity to form interlocking connectors.
It provides personalized power tool holders by connecting easy-to-use French-cleated blocks to the wall, making shelving a snap.
This smart solution makes the most available wall space, providing a simple and effective way to organize and display your equipment.
Prepare to be astounded by this clever storage solution's variety and functionality.
7.

Wooden Bench Bins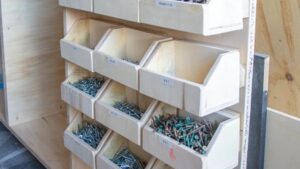 It is a clever and simple DIY project that turns discarded wood into useful storage bins for screws, nuts, and nails.
The best thing is that bins are made from easily accessible waste wood, making them cost-effective and ecologically beneficial.
The ingenious design allows for efficient organization and storage, making it an excellent solution for anyone looking to declutter their workspace or garage.
8.

Foam Board for Small Tools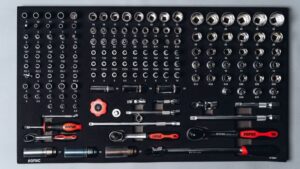 Foam Board for Small Tools is a versatile option for organizing small parts in your toolkit.
It might be challenging to keep them in order, but with foam board; you can construct customized compartments for each item.
You may carve out areas for your instruments according to size, color, or usage with a craft knife, keeping them organized and conveniently accessible.
Get rid of the misery of misplacing minor parts and experience the delight of a well-organized toolbox.
9.

Put Your Tools on a Pedestal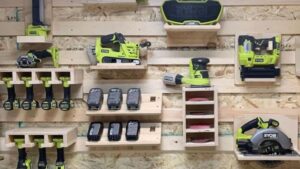 It lets you organize and keep your tools while adding a touch of reverence, whether you choose a French cleat system or pedestals with horizontal platforms.
Custom shelves can store unusual materials such as batteries and sandpaper.
Ideal for tenants looking for a non-permanent alternative to typical shelf cabinets; however, additional solutions are available.
10.

Tuck Your Tools Away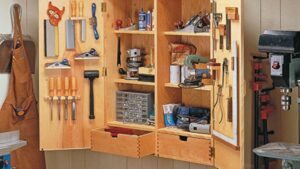 Installing a workshop closet allows you to organize and maximize space while keeping your tools clean.
PVC pipes may be used to store drills, shelves for stacking tool boxes, tool bags, and hooks for longer tools.
Whether you rent or own your space, consider the suggested unit for garages or look at possibilities at local hardware stores for an organized and tidy workspace.
Takeaway!!
Adopting these clever tool storage ideas will surprise you at how much easier and more pleasurable your tasks will become.
So, why settle for a cluttered mess when you can make your workshop a well-organized haven? Implement these ideas into action and see the magic unfold before your eyes!
Happy Organizing!