Have you ready to take your family adventures to a new level of snacking convenience? Look no further than the Snackle Box to revolutionize your on-the-go munching!
Gone are the days of rummaging through bags and struggling to find the right snack.
With the Snackle Box, you can proactively prepare your snacks beforehand, ensuring everyone has their favorites within reach. It's like having a portable pantry designed just for snacking!
Get ready for a snacking experience like no other with Okayreview!
What is a Snackle Box?
A Snackle Box is a unique twist on a traditional tackle box, but instead of storing fishing equipment, it is designed to hold an assortment of snacks.
It features small compartments that keep different types of food fresh, crunchy, sandwiches, and separate, catering to picky eaters.
Snackle Boxes are available in various sizes, ranging from small boxes with four compartments resembling reusable Lunchable containers to multi-tiered storage options.
They are suitable for kids and adults, as well as different snacking preferences and group sizes.
Additionally, Snackle Box coolers are available online, equipped with compartments to keep snacks chilled and fresh, making them perfect for beach outings or road trips.
What Are the Different Types of Snackle Boxes?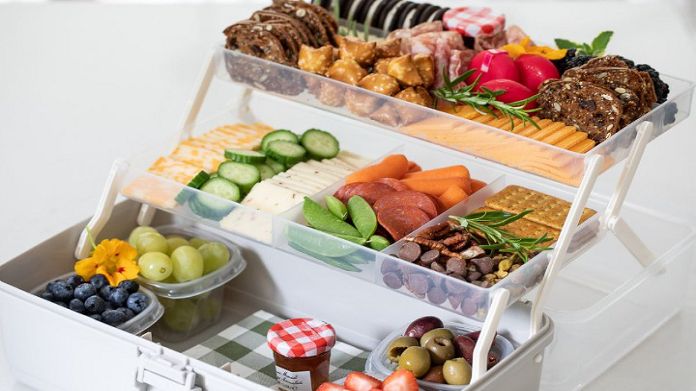 Several types of Snackle Boxes are available to suit various preferences and needs. Here are a few examples:
Basic Snackle Box: These are typically small-sized tackle boxes with multiple compartments designed to hold a variety of snacks. They resemble reusable Lunchable containers and are great for on-the-go snacking.
Tiered Snackle Box: These boxes feature multiple tiers or levels, allowing you to organize different types of snacks separately. They provide more storage space and are ideal for longer outings or group snacking.
Specialized Snackle Box: Some boxes, such as snack and dip combinations, are designed for specific purposes. These boxes come with separate compartments for snacks and a central section for dips or sauces.
Snackle Box Cooler: These boxes have built-in insulation and cooling capabilities. They have compartments to keep snacks chilled and fresh, making them perfect for outdoor activities like picnics, beach trips, or road trips.
Customizable Snackle Box: These boxes, featuring adjustable dividers or removable containers, are available for customization. It will enable you to create various sizes of compartments to accommodate different snacks.
Remember, the type of Snackle-box you choose depends on your snacking preferences, the duration of your outing, and the number of people you'll be snacking with.
How to Make a Snackle Box?
When it comes to making your Snackle Box, the possibilities are endless! The key is to consider your family's needs, the duration of your outing, and the types of snacks you enjoy.
Here's a helpful guide to get you started,
Consider Your Destination: Consider your destination and arrange your snacks accordingly. Will you be hiking, going to the beach, or driving?
Quantity and Variety: Determine how much food you'll require based on the duration of your trip and the appetites of your family members. To appeal to diverse taste preferences, mix salty and sweet foods.
Individual or Separate Boxes: Depending on your family's preferences, you may make one huge Snackle Box with a combination of lunch and snacks or smaller individual boxes for each family member.
Customization for Picky Eaters: Personalise each Snackle Box by including each child's favorite lunch and snacks. This additional effort will certainly receive appreciation.
Keep it Simple or Get Fancy: Create your Box in your family's style. It may be as basic or as complex as you like. Remember, it's all about having a good time!
With these tips in mind, you're ready to create the perfect Snackle Box that suits your family's activities and ensures everyone stays fueled and satisfied during your adventures.
Where Should You Use Your Snackle Box?
Your Snackle Box may be utilized in various situations, making snacking more convenient. You save time and work by preparing your snacks ahead of time.
While taking your Snackle-box on a boat is a popular option, its usefulness extends well beyond that. Here are some more instances when your Snackle-box might come in handy:
Here are some places that would be to use it:
Boating
Day at the beach or lake
Road trip
Sports tournaments
Picnic at the park
A day at the pool
Airplane travel
Easter
Around the house
Church
Types of Food to Put in Your Snackle Box
We can classify the foods to put in your Snackle-box on the basis of their taste, such as salty, sweet
Salty Snacks
Nuts
Seeds
Pretzels
Popcorn
Crackers
Potato Chips
Jerky
Veggie Straws
Cheese Celery
Dried Fruit
Cheerios
Cheese Slices
Goldfish Sliced
Cucumbers
Small Tomatoes
Broccoli Florets
Berries
Sliced Fruit
Meats
String Cheese
Sweet Snacks
Gummy Bears
Fruit Snacks
Chocolate Covered Raisins
Cereal Bars
Yogurt-covered Pretzels
Granola Bars
Animal Crackers
Mini Oreos
Marshmallows
Skittles
Nerd Clusters
Drinks Ideas
Milk
Juice Boxes
Bottled Water
Lemonade
Small Chocolate Milk
Wrapping Words
The Snackle-box is undoubtedly the ultimate snack hack for every family adventure. Its clever design and multiple compartments make snacking a seamless and enjoyable experience.
By preparing your favorite treats in advance, you'll have various options, ensuring everyone's cravings are satisfied.